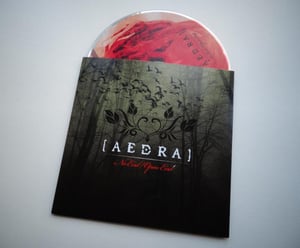 €

7.00
AEDRA - No End / Open End (2009)
Tracklist:
01 - In Forests: (02:30)
02 - Through The Rain (12:09)
03 - We've Come Out (08:57)
Total running time: 23 min. 5 sec.
WRITTEN, ARRANGED, AND CO-PRODUCED BY AEDRA:
Loke Ansbjerg - Bass
Morten Purup - Guitars & Vocals
Peter Drastrup - Drums
Recorded at Late Fairytale Studios, Denmark, between August 20th and 23rd 2009.
Engineering and Production by Anders Ruby.
Mixed by Anders Ruby in collaboration with the band.
Mastered by Anders Ruby.
All artwork by Peter Drastrup.
(P) & (C) 2012 Throw Me Off Balance Recordings - Manufactured in Denmark - TMOBR201201